XL-844 8" Subwoofer
NEW Large Roll Santoprene® Surround
8" Single 4-Ohm Subwoofer
200 watt RMS/400 Watts Max
Proprietary Non-pressed Paper DDC Coated Cone
2.0" Vented BASV Voice Coil Former
Perimeter Aero-Vent Voice Coil Cooling Vents
Proprietary Non Resonance Polycarbonate/Glass Fiber Basket
Chrome Push Terminals
Optimally Designed for Both Small Sealed or Ported Enclosures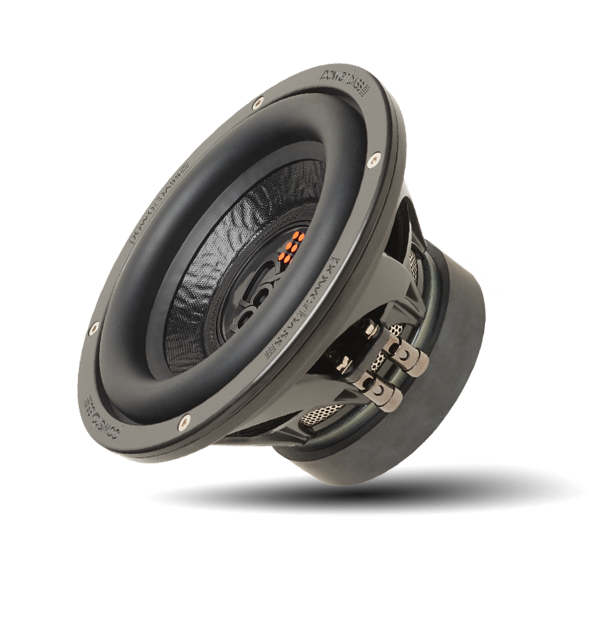 Home > Products > Subwoofers >
XL-844 8" Subwoofer

Read more
XL-844 8" SUBWOOFER WITH EXTENDED LOW FREQUENCY RESPONSE
Our newly designed XL Series Subwoofers, feature the same great look and performance you are accustomed to but are now optimized for extended low frequency response giving you even more bottom end sound and increasing the overall sound quality aspect of your bass tones.
Boasting a custom turbine style frame constructed of polycarbonate/glass fiber, this unique basket supports dual stack magnets and a extended dome backplate.
We utilize a combination of perimeter and pole venting to keep air circulating over the voice coil so everything stays cool.
A non-pressed paper cone was selected for its natural smooth bass reproduction and its ability to provide high output with low distortion even under the stress of high SPL. Finally, to make sure the power gets to the subwoofer, we used chrome push terminals for maximum current transfer.
The XL subwoofers are Xtremely versatile and offer amazingly low bass whether installed in a small sealed enclosure or ported enclosure and are available in 8", 10" & 12"
Specifications
Subwoofer Frequency Range:

40 Hz - 400 Hz

Inputs:

Single Coil

Fs:

41.9 Hz

Cutout Diameter:

7 1/8 in (181.4mm)

BL:

12.83

Nominal Impedance:

Single 4-ohm

Voice Coil Size:

2 in

Material:

Non Pressed Paper

Magnet Size:

116 oz

Sensitivity (1W / 1M):

81.34 dB

Motor Structure:

116 oz

Mounting Depth:

4.375 in

Xmax:

5 mm

Spl:

81.34 dB

No:

0.082 %

Qts:

0.506

Qes:

0.557

Qms:

5.532

Mms:

98.79 g

Cms:

146 uM/N

Vas:

6.44 Ltr

SD:

176.71 sqCM

Test Impedance:

3.5-ohm

VC Impedance:

4-ohm

Size:

8 in

Sensitivity:

81.34 dB

Frequency Response:

40 Hz - 400 Hz

Voice Coil Size:

2 in

Power Handling (RMS/Peak):

200 / 400 watts
Downloads

Recommended Products