STA-10 10" Amplified Bass Enclosure
IN STOCK NOW!
Single 10" 150 Watt RMS Amplified Under Seat Subwoofer Enclosure
Extruded Aluminum Enclosure with Dynamic Damping
10" Injection Molded PP Cone Woofer
1.5" KSV Voice Coil Former
1-Channel 150 Watt High Efficiency Class A/B Design
High Level (Speaker)/Low Level (RCA) Input
Soft Delay Turn On/Off Circuit
Auto Turn-on (high level input only)
Variable Low Pass Electronic Crossover
Variable 12dB Bass Boost EQ @ 45 Hz
Variable Gain Control
Protection Circuit: Impedance Over-load, Speaker Short, Circuit, Thermal Overheating, and DC Output
Variable Wired Remote Gain Control Included
Mounting Hardware Included
10.9"W x 3.2"H x 14.4"D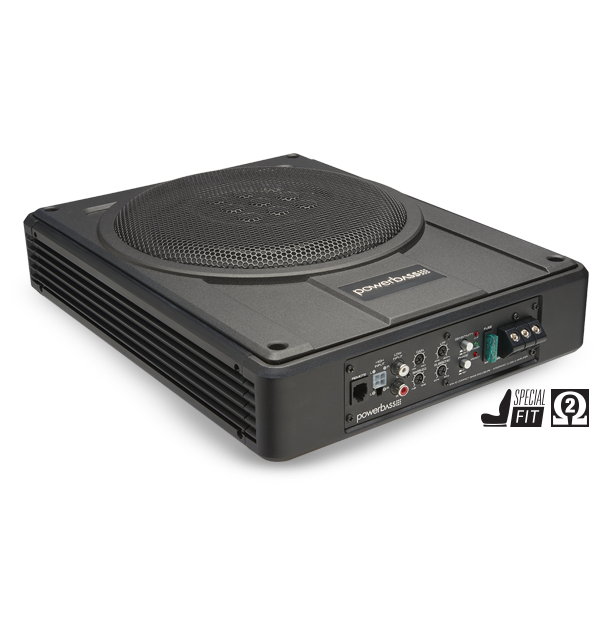 Home > Products > Loaded sub enclosures >
STA-10 10" Amplified Bass Enclosure

Read more
STA-10 SINGLE 10" AMPLIFIED UNDER SEAT AMPLIFIED SUBWOOFER
This vented enclosure contains an Ultra Efficient Class D mono amplifier perfectly matched to power the 10-inch woofer. We came up with a compact trapezoid shaped enclosure, perfectly tuned to get the most out of the proprietary 10-inch subwoofer. The geometric design maximizes transient response, reducing the negative effects that a small enclosure can have on the subwoofer by dispersing and dissipating standing waves away from the subwoofer. The result is cleaner, deeper bass.
Supplied with "plug in" connectors for speaker and power installation is simple and straightforward. Also since no holes need to be cut the STA-10 is a perfect choice for leased vehicles that could use a little extra bass.
STA Amplified Sub Enclosure
Aluminum Enclosure with a lighted logo badge all CAD (Computer Aided Design) for maximum output in small spaces
10-inch Polypropylene Woofer with 40 oz ferrite magnet and pole venting
200 watts RMS Mono Amplifier (400 watts Peak Music Power) featuring variable Gain, Low Pass and Bass EQ
High / Low Input Compatible with OEM or aftermarket radios
Variable Remote Gain Control (Included)
Specifications
Selectable Subwoofer EQ:

0dB - 12 dB @ 45 Hz

Inputs:

Low Level (RCA)/High Level (speaker level)

Equalization Boost/Cut:

0dB - 12 dB

Subwoofer Frequency Range:

20 Hz - 200 Hz

Power Supply:

Unregulated PWM

Height:

3.2"

Width:

10.9"

Depth:

14.4"

Material:

Extruded Aluminum

2-ohm Power:

200 watts RMS / 400 watts max

Subwoofer EQ Frequency:

45 Hz

Variable Subwoofer EQ:

0dB - 12 dB

Low-Pass Crossover Freq:

40 Hz - 200 Hz

Dimensions (in Inches):

3.2" x 14.4" x 10.9"

Input Sensitivity:

250 mV - 6V (low level)/1.0V - 10 V

S/N Ratio:

>85 dB

Total Harmonic Distortion:

0.5% at Rated Power

Output Power (14.4 V) @ 2 ohm:

200 watts RMS / 400 watts max

Channels (mono):

1

Frequency Response:

20 Hz - 200 Hz
Downloads
STA-10 10" Amplified Bass Enclosure

Recommended Products