ACP-2.4 Digital Capacitor
2.4 Farad Digital Stiffening Capacitor
Red 4 Digit LED Voltage Meter W/Polycarbonate Display Cover
Supercharged Electrolytic Fluid
Auto Turn On
Mounting Clamps
Platinum Power Connectors
20 VDC Voltage Rating
2.4 Farad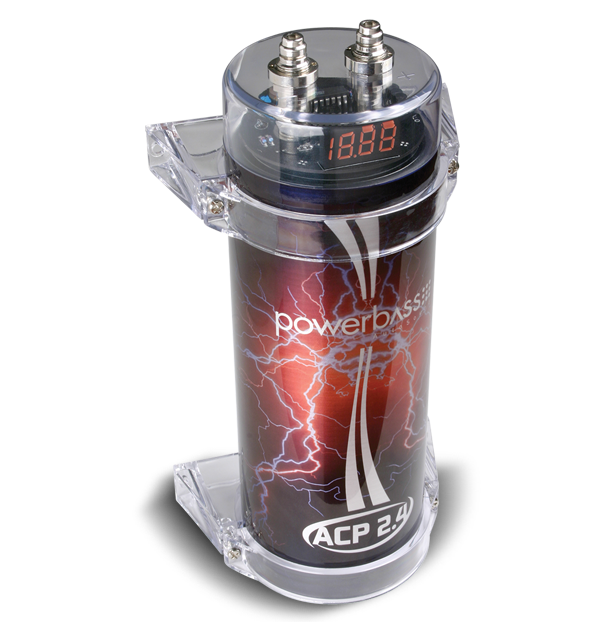 Home > Products > Discontinued >
ACP-2.4 Digital Capacitor

Read more
ACP-2.4 2.4 FARAD DIGITAL STIFFENING CAPACITOR
Provides the instantaneous power your amplifier needs for maximum SPL and tighter bass along with more dynamic headroom.
Capacitors provide "Instant" voltage and current to keep your amplifiers power supply from sagging when you need the power the most. They will provide voltage instantly unlike your battery that has a slow rise time. This will keep your bass accurate and tight for the demanding passages in today's music when a battery alone can't provide that instant power.
ACP-2.4 Digital Capacitor

Recommended Products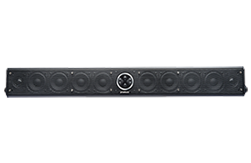 XL-1000 Power Sports Sound Bar
ADD TO CART FOR AN ADDED 15% DISCOUNT TODAY!
10 Speaker 400 watt Amplified Bluetooth Powersports Soundbar

IPX6 Rated

8 x 3" Full Range Marine Grade Poly Cone Speakers
2 x 1.25" SD Mylar Tweeters
Heavy Duty Extruded Aluminum Water Tight Housing
LED back-lit Control Panel
LED Visual Notifications
Audible Power On/Off Notifications
Built In DSP Processor w/Distortion Limiter
Bluetooth and Wired Inputs
2 Volt Line Output
Auto Turn On/Off Circuit
Waterproof Wire Loom Connectors
Universal L-Bracket Mounting System Included
Universal Top or Bottom Mount Clamp Style Brackets (Sold Separately XL-SBCLAMP, XL-SBTCLAMP, XL-SBSCLAMP )
Secondary Dash Mountable Controller Pad (Sold Separately XL-SBCON)
READ MORE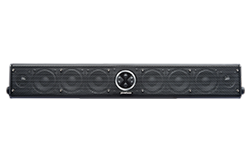 XL-800 Power Sports Sound Bar
ADD TO CART FOR AN ADDED 15% DISCOUNT TODAY!
8 Speaker 300 watt Amplified Bluetooth Powersports Soundbar

IPX6 Rated

6 x 3" Full Range Marine Grade Poly Cone Speakers

2 x 1.25" SD Mylar Tweeters

Heavy Duty Extruded Aluminum Water Tight Housing

LED backlit Control Panel

LED Visual Notifications

Audible Power On/Off Notifications

Built In DSP Processor w/Distortion Limiter

Bluetooth and Wired Inputs

3 Volt Line Output

Auto Turn On/Off Circuit

Waterproof Wire Loom Connectors

Universal L-Bracket Mounting System Included

Universal Top or Bottom Mount Clamp Style Brackets (Sold Separately XL-SBCLAMP, XL-SBTCLAMP, XL-SBSCLAMP)

Secondary Dash Mountable Controller Pad (Sold Separately XL-SBCON)
READ MORE