Standard Warranty
PowerBass warranty periods vary based on the product series and method of purchase. Please refer to the warranty statement included in the owners manual for each product.
This warranty applies only to PowerBass products sold to consumers by Authorized PowerBass Dealers in the United States of America. Products purchased by consumers from a PowerBass dealer in another country are covered only by that country's Distributor and not by PowerBass USA.
Our warranty covers only the original purchaser of PowerBass product. In order to receive service, the purchaser must provide PowerBass with the receipt stating the (1)consumer name, (2)Full dealer info, (3)product and (4)date of purchase. Do not return any product without first obtaining a RA (Return Authorization) number.
Unauthorized returns are not accepted. Items received with missing or defaced serial number will void warranty.
Xtended Warranty Information
In an effort to promote high-quality, professional installations, we offer a free two-year warranty Xtension on our PowerBass Xtreme speaker series that are sold and installed by an authorized dealer. In order to quality for this Xtended Warranty, (5)a labor charge must be clearly shown on the sales receipt. (See sample sales receipt)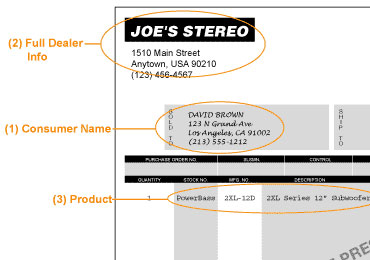 The consumer is responsible for paying the shipping to PowerBass. If your return is found to be defective under the terms and conditions of the warranty, PowerBass will prepay the shipping back to the consumer. If no trouble is found (NTF) or the item is not under warranty, the consumer is responsible for the return shipping charges.
Please note that PowerBass products must be purchased from Authorized PowerBass Dealers only.  Any purchases made from unauthorized sources may not be covered by our manufactures warranty. 
If you are not sure about warranty coverage, please call our customer service department at (909) 923-3868 between the hours of 8:30am - 5:30pm PST.
DOWNLOAD RMA FORM