PBX-DSP8 8 Channel Digital Signal Processor
General Features:
Digital Signal Processor for system integration.
Wireless / APP Control compatible with PBX-DSP8.
Auto Turn on with DC Offset
High and Low level input
Low Level user adjustable Outputs
8 Channels input / 8 channels output
Amplifier remote turn on with user selectable delay
Processing Features:
32-Bit Digital Signal Processing
31 Band User Adjustable Equalization per channel
User Adjustable Delay and Gain per channel
User Adjustable Crossover Network with adjustable slopes 6 - 48db
User Selectable Phase control per channel 0 / 180 degrees
Adjustable input voltage per channel pairings 250mV - 9V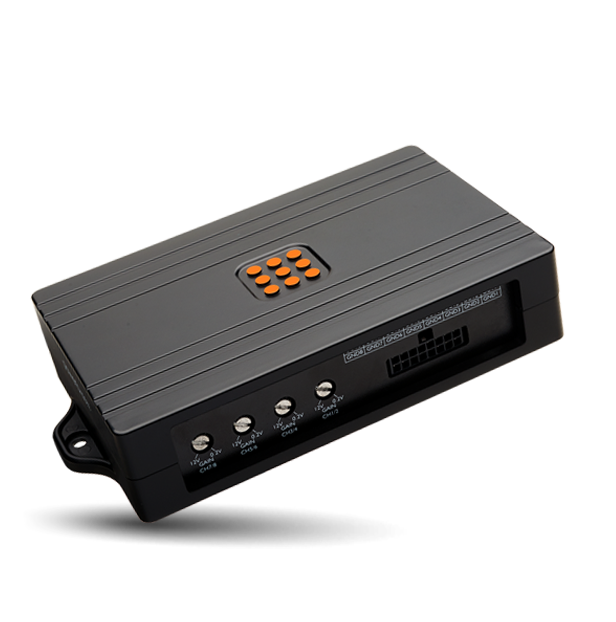 Home > Products > Coming soon >
PBX-DSP8 8 Channel Digital Signal Processor

Read more
PBX-DSP8 8 Channel Digital Signal Processor
Take your sound to the next level with the PowerBass PBX-DSP8 8 Channel DSP.
The PBX-DSP8 digital signal processor is engineered to deliver the ultimate in system tuning capabilities, in an easy-to-use format. Combined with a state-of-the-art 32-bit DSP processor, The PBX-DSP8 gives you the ability to do complete DSP tuning and signal summing via your smart phone or tablet using the downloadable PBX-DSP8 app.
The PBX-DSP8 31 Band Parametric Equalizer gives you complete control on your sound profile. By knowing how to adjust the EQ properly you can make fine adjustments to each channel to adjust specific frequencies to accent them or decrease them to smooth out the peaks and dips in the curve This is generally different by listener and is recommended that you work with each channel separately before final adjustments with all channels activated. For advanced users we recommend using an RTA to visually see your adjustments providing a more detailed tuning experience.
With the various off-axis position of speaker placement in todays vehicles getting the sound stage to feel like you are watching the concert play out in front of you on your dash can be complicated to achieve, but not with the PBX-DSP8.
The PBX-DSP8 is packed with tons of great tools to enhance your in car listening experience. Time Delay or Time Alignment is one of the best tools to really set your sound stage apart from the norm allowing you to adjust the timing that the sound comes to your listening area. This brings the sound to life much like hearing it live like a concert on your dash board! With proper adjustment the sound should immerse your ears with a great listening experience by adjusting for the distance and size difference of the various speakers in your system enabling you to hear them all at the same time and in the proper position.
Dialing in your sound has never been easier with the easy to use mobile app you can adjust every aspect of your sound allowing the perfect sound stage positioning, improved and consistent frequency response as well as multi-channel control for Active Set-Ups when nothing but the best in sound will do!
Specifications
Subwoofer Frequency Range:

User Selectable

Power Supply:

11-15V DC negative ground

Maximum Output Voltage:

8Vrms

Inputs:

8 Channel Low Level / High Level

Dimensions (in Inches):

5" x 4" x 1.26"

Depth:

4"

Channel Separation:

98dB

Selectable Subwoofer EQ:

User Selectable

Pre Graphic Frequency:

User Selectable

Equalization Boost/Cut:

User Selectable

Height:

1.26"

Width:

5"

Switchable Subwoofer EQ:

User Selectable

Subwoofer EQ Frequency:

User Selectable

Variable Subwoofer EQ:

User Selectable

Low-Pass Crossover Freq:

User Selectable

High-Pass Crossover Freq:

User Selectable

Crossover Slope:

User Selectable

Input Sensitivity:

User Selectable

S/N Ratio:

100dB

Total Harmonic Distortion:

<1.0%

Frequency Response:

20 Hz - 20 kHz
PBX-DSP8 8 Channel Digital Signal Processor

Recommended Products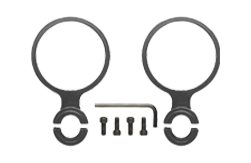 TF-BRK-200 Bike Bracket for BT-200 PowerBass SPLIT
Works with BT-200 SPLIT
Black Powder-coated finish
Heavy Duty Laser Cut Steel
Available in these bar sizes:
READ MORE