TF-BRK-200 Bike Bracket for BT-200 PowerBass SPLIT
Works with BT-200 SPLIT
Black Powder-coated finish
Heavy Duty Laser Cut Steel
Available in these bar sizes: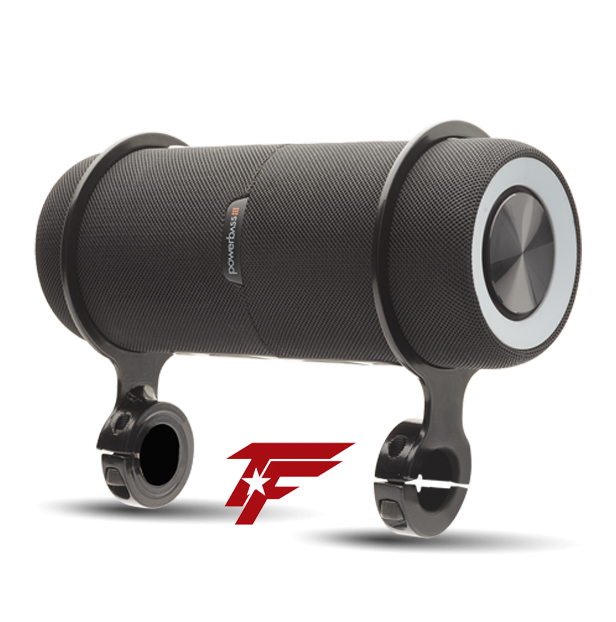 Home > Products > Personal audio >
TF-BRK-200 Bike Bracket for BT-200 PowerBass SPLIT

Read more
Timmy Fresh TF-BRK-200
Bike Bracket for BT-200 PowerBass SPLIT
What better way to enjoy your favorite tunes when you are not in your car than with our new BT-200 Portable Bluetooth Speaker. This portable speaker has dual built in 1500 man Li-ion batteries for hours of play while at the beach, camping, at home, or even at a party! Recharge the unit with the supplied dual USB-A to USB-C charge cord and let the music play!
Mounting the BT-200 SPLIT to your Bicycle is now super easy thanks to our friends over at Timmy Fresh Brand! The TF Bracket system has been seen on bikes from METALLICA All Within My Hands Foundation, Drew Brees Brees Dreams Foundation and Dylan Lee's Atlanta Braves for Lees Leaders & Lures Foundation!
The new TF-BRK-200 comes in four different bar sizes made to fit most popular bike tubes, along with the hardware to bolt it up to you bike and keep the party rolling! Made from laser cut steel the TF-BRK-200 not only looks great but is strong enough to survive the fun out on the beach rides or even on the trails.
Be sure to measure your tube size and order the correct selection from the drop down menu.
The TF-BRK-200 will be available soon here on the Powerbass website however if you are looking to get your BT-200 SPLIT and Bracket Combo now head on over to Timmy Fresh Brand by simply clicking the button below.
Specifications
Material:

Steel

Size:

7/8", 1", 1 1/4", 1 3/8", & 1 1/2"
TF-BRK-200 Bike Bracket for BT-200 PowerBass SPLIT

Recommended Products